...These are a few of my favourite things!
Today I thought I would share with you some of the Etsy things that I am salivating over. As you can see there is an apparent theme, but more so these are the kind of things that I adore and obsess over. Black and white, stark but embellished, deers, trees and birds... These things definitely make me tick and are what I embody myself to be... If that even makes sense?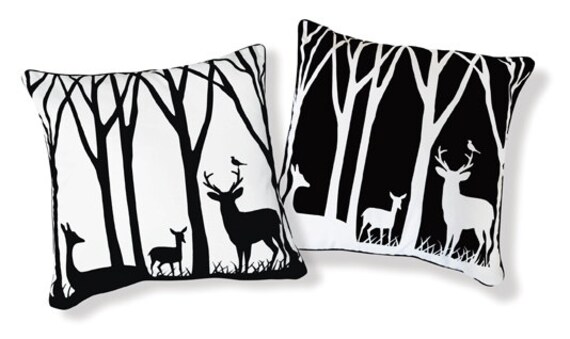 How stunning are these cushions!? They are absolute perfection. VERY me.
I MUST HAVE THESE LEGGINGS! Oh <3
And this skirt from the same seller is also a beauty!
We live in a rented house and I've always wanted decals, but these are silhouettes of trees are just YUM! Yes please!
I was actually going to buy these for a friend who has mutual tastes (she's a keeper and my fave shopping buddy) but they were a bit out of my price range. They are beauts though.
I couldn't not include this woodland themed washi tape. So cute!
and last but not least... I have a MASSIVE collection of necklaces that I'm unable to wear as anything remotely touching my neck irritates my eczema, but that doesn't stop me from hoarding them! This one is lovely and I know that Fable & Fury's jewellery is of a very high standard :) I'm actually wearing one of their creations in my profile image!
Do you like my finds? Have you seen anything similar lately? I'd love to know :)